Wedding Marquee Installation
Thinking of choosing 24 Carrot Events for your wedding? You have made the right choice, we will dedicate ourselves to ensuring you have the perfect marquee and a top quality service. We understand how stressful organising a wedding can be and will work closely with you, your caterers, entertainers, the venue proprietors and other suppliers to ensure everything runs smoothly with no un-foreseen hiccups on the big day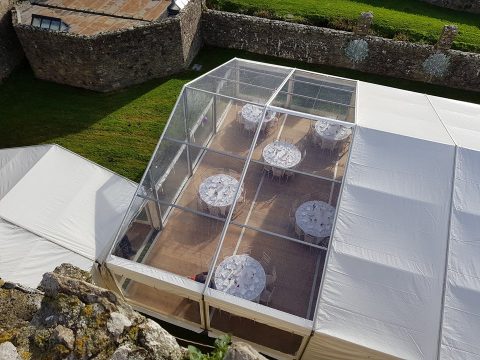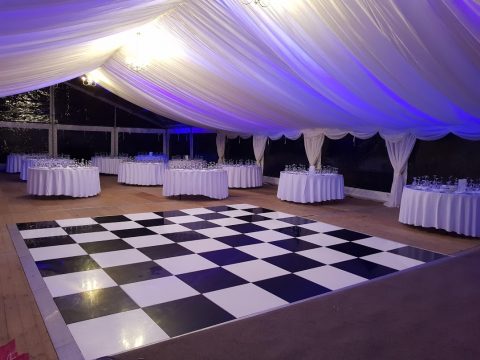 With your chosen colour scheme and personal touches we can advise you on design, décor, lighting, table linen, furniture, sound system and even recommend some choice local venues in the stunning West Wales countryside. We can also provide you with a detailed plan showing you recommended table layout with position of dance floor, bar and other areas.
We work alongside many local suppliers and can recommend wedding planners, caterers, equipment suppliers, entertainers for your event as well as local venues. Many of these contacts can be found on our Recommended Links page.
A popular feature we can supply is our Hexagonal Bell End with clear roof and walls, as well as Clear roof panels and walls on our standard shaped marquees. These will add a unique feature to your wedding marquee creating an additional space for bar or reception area and to make your day that extra bit special, please enquire for more details.
To view more images of recent events check out our Picture Gallery
Lighting and Effects are just one of our specialities. Colour wash lighting can be installed creating a fantastic effect for your big day, making it stand out from the rest. We use state-of-the-art LED lighting which is controlled from a simple controller, allowing client to control colour and intensity. Later in the evening, during the entertainment, the lighting can be set to 'sound activated' so the whole marquee changes colour in time to the music. This is a new feature which is proving very popular with our clients.
We also supply a range of effects including fairy lighting, festoon, a choice of chandelier, exterior colour wash as well as disco lighting and effects such as large mirror ball with motor and spot, low level fog machine and a large snow machine for winter themed events or stage use.