Staffed & Stocked Mobile Bar
Mobile Bar can be installed into marquee or venue. Our staff will run your bar for the duration of the event. We supply Lager, Cider and Ale on tap, perfectly chilled for those hot summer days. A large range of popular Spirits, Mixers, Soft drinks, bottle Beers and Prosecco are also stocked as well as some fine wines that are carefully selected by our independent wine merchant based in Pembrokeshire. A selection of speciality gins also stocked.
Installation of bar equipment needs to be the day prior to the event or with at least four hours between installation and serving time to ensure the cooler is suitably chilled.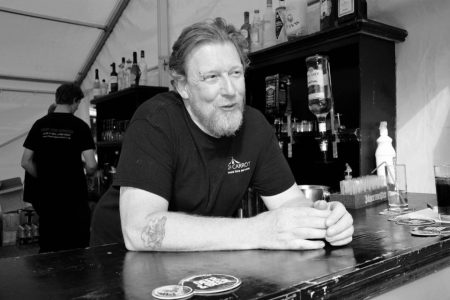 If not installed with our wedding marquee, we would also require covered space for bar of at least 6m x 3m, otherwise we can supply marquee cover ourselves, though this will be charged for. We will also require power access to supply chiller, lighting and fridge and vehicle access to install and remove equipment.
Pay Bar Terms & Conditions

Bar Hire is only available if you have a minimum of 100 guests, aged 18 or above, attending your event throughout the day.

Guests are required to purchase their drinks from the bar we provide for your event. This means that you, the hirer, must ensure that guests do not bring their own drinks for consumption at the venue.

All table wine and or reception/arrival drinks that are not purchased from ourselves must be removed, before the bar opens.

All other drinks provided for your event must be supplied by us. Special orders or requests for specific drinks must be made at least 14 days prior to your event date.

We will apply for the Temporary Event Notice (TEN) which is the alcohol licence required by law to cover your event. In the unlikely event of a refusal of the application by the authorities, we cannot be held responsible.

We operate a strict policy on underage drinking. Guests that appear to be under 21 years of age may be challenged for photo identification.

Your bar hire booking is subject to a refundable security deposit of £200. Deposits will be cashed or debited at the time of booking and will be refunded to you after your event has taken place. Refunds will be processed within 21 days of the date your event took place.

Deposits will be retained if your event is cancelled without 14 days written notice, and even then the cost of any licences that have been applied for will be deducted.

You will be required to ensure that we have access to the venue at the time we agree with you for the installation of your bar hire equipment. You must inform us in advance if there are restrictions to the venue access such as time restrictions, parking restrictions or car park height restrictions.

We will provide glassware which we charge for at £60 per 100 guests. Should you wish us to supply glassware for tables also, then this will be charged for separately. Any losses or breakages will be deducted from deposit.

We reserve the right to withhold the refundable deposit including, but not limited to, cases where there is damage to equipment or where attendance falls below the stated levels.

We will require access to power, though we will supply our own extension leads.

Vehicle access to premises is necessary to install and remove bar equipment.

We will also require parking as close to event as possible for security and convenience of storing reserve stock.
For more information on hiring our mobile bar please email or call us for full details and we will discuss with you the available options and work out what suits you best